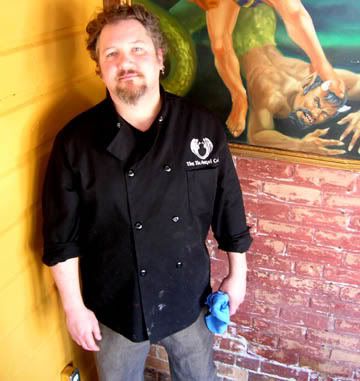 Our Chef Jerry Liedtke
Jerry Liedtke is the chef and co-owner of the Tin Angel Cafe in downtown Salt Lake City's Pioneer Square area. Jerry's extensive culinary experience spans twenty years of cooking in some of Utah's most prestigious restaurants. From France and Italy to Sonoma California and Capitol Reef National Park, Jerry has studied and cooked all over the world. This international experience has lead to a talent for European dishes which emphasize Mediterranean flavors. Jerry's diverse experience and desire for the highest quality ingredients has lead to his interest in sustainably grown, fresh, local and organic ingredients. This passion is what propels the menu at the Tin Angel where he balances each dish with a careful eye for fine flavors.
Jerry started his career as a punk kid skateboarding to his prep cook position and, 20 years later, he still rocks in the kitchen (and the half pipe). After assisting in the design and execution of a number of other people's restaurants, he began designing a menu of his own. As he traveled and ate and studied cooking he began tucking away ideas for flavor combinations and creative dishes. In 2007 he and his wfe Kestrel and their best friend Robin Fairchild put their combined experience to work and opened the Tin Angel Cafe in an 1870 era house full of charisma and history.
Robin and Kestrel
Through traveling, working hard and gaining experience in all capacities of the business, these two best friends of 18 years have always dreamed of having a restaurant of their own. A place where both individual personalities could fully be expressed in decor and atmostphere. Local Food, Art, Music, and Community are most important to all of the owners of Tin Angel Cafe. Their vision is to bring Jerry's imaginative menu to the table in a cozy welcoming atmosphere where the rituals of dining are lovingly balanced with a flair for the creative.
Kestrel is in the backyard with her chickens as part of her ongoing urban farming project. Cultivating vegetables and gathering fresh eggs for the restaurant is a task she does with loving care and one from which we all benefit. (photo Adam Finkle/Salt Lake Magazine March 2010)